Remedyforce Consulting: BMC takes Remedyforce CMDB to the next level
By Pat Leftwich, Senior Consultant, Cloudaction
---
Until recently, only very large enterprise IT groups invested the time, effort, and expense required to implement a CMDB. Smaller organizations did not have any feasible options available in their favor because there were no "one size fits all" CMDBs on the market.
In today's more complex infrastructure and ever-changing application environments, IT organizations of all sizes have come to realize they must have a solid understanding of the physical and virtual resources that make the business they support tick. The great news is that there is a solution for organizations who want to understand and simplify their infrastructure: the BMC Remedyforce CMDB, which was vastly improved in the Summer '14 release.
The Remedyforce CMDB includes advanced capabilities, such as collision detection and impact analysis. With CMDB, BMC offers customers enterprise-class capabilities through Remedyforce as well as out-of-the-box integration with Atrium CMDB for those customers with the most complex needs. It's estimated that only 20 percent of IT organizations have truly complex CMDB requirements.
Remedyforce CMDB CI viewer (screenshot below) allows IT managers to determine whether an action planned on one configuration item will have an impact on another. Using this function during the planning of a change can greatly increase the efficiency and accuracy of the change management process. This perspective also enables the Service Desk to quickly visualize the impact an Incident or outage may be having on related services or systems.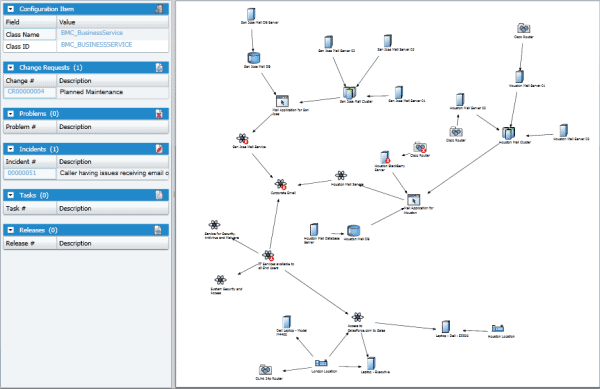 The ability to model services by creating relationships between configuration items is one of the most powerful and advantageous features of CMDB, and Remedyforce CMDB provides the ability to create these mappings and services. In cases where there is a need to create and maintain these models in an automated fashion, Remedyforce provides an integration to BMC's Atrium Discovery and Dependency Mapping (ADDM) solution. This robust Remedyforce integration enables you to discover the assets in your environment, map their dependencies, group them into application and service models, and then populate those models into the Remedyforce CMDB.
BMC also provides predefined integration packages with discovery and management solutions such as Microsoft SCCM, BMC BladeLogic Client Automation, BMC Client Management, Dell KACE, and BMC Atrium CMDB.
The Remedyforce CMDB exceeds expectations by not only providing an organization with the basic functionality of a CMDB but also by bridging the gap and leading the way to a truly complex configuration management system.
At Cloudaction, our goal is to help you get maximum value from your Remedyforce experience. We welcome your comments and suggestions. Please don't hesitate to contact us at 1-844-2CLOUDA (1-844-225-6832) or via Ask Us NOW!, a complimentary service from Cloudaction to provide expert answers to your product capability, functionality, and implementation questions. We promise to respond to your inquiry or question within 24 hours.