Remedyforce Consulting: Remedyforce Summer 17 Highlights
By Kedar Zavar, Architect, Cloudaction
---
Among the greater BMC Remedyforce community – to include admins, support staff, clients, and consultants like me – it is generally understood that with every release the Remedyforce team adds some amazing new features. Summer 17, now generally available, carries on the tradition of excellence. As a member of the BMC Early Access Program, I got an advance look under the hood and want to highlight Summer 17's new features.
The Big Picture
From a "big picture" standpoint, Summer 17 offers something of value for everyone in the Remedyforce ecosystem.
For support staff and clients:
Enhancements to Self Service 3.0 portal
Enhancements to Activity Feed and SmartViews on the Remedyforce Console tab
Ability to show only email conversation-related email templates in an email message
Ability to highlight updated Incidents and Service Requests in the Remedyforce Console list views, making it easy for staff to prioritize support efforts
Ability to view configuration items and assets details in the Remedyforce Console
For admins:
Ability to capture current staff from the parent record in action history for workflows
Hyperlink formula fields updated to eliminate JavaScript usage
Support for Salesforce Platform Encryption
Ability to capture Incident and Service Request close time for reporting
Reconciliation of CMDB record is generally available
Noteworthy Summer 17 Enhancements
Now let's highlight specific Summer 17 features that promise to help enhance usability and productivity.
1) Self Service 3.0 Portal
With Summer 17, clients can search records via the Self Service 3.0 portal.
My Activity:
Records are listed in chronological order of created date
You can search records by number or text
Now able to filter records by status and state or both
You can customize fields displayed on summary card for each record
Formatting of labels and values in summary card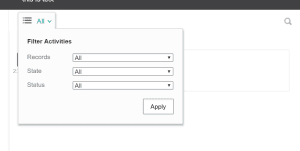 General Usability
Additionally, Summer 17 release improves Self Service portal usability by providing the ability to go back to Salesforce from within the portal.

Improvements to User Look-ups
User look-ups on self-service show email, full name, and photo, making it easy to identify users. You can easily pick users from the drop-down for approvals, on behalf of, etc.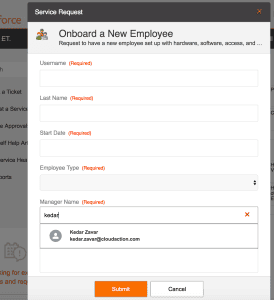 Display Actionable Records by Client
Summer 17 adds a great feature to flag incidents if you are waiting on client responses. Staff can configure "Status values that are actionable by clients" settings so the status of Incidents are flagged in Self Service if an action by the client is required.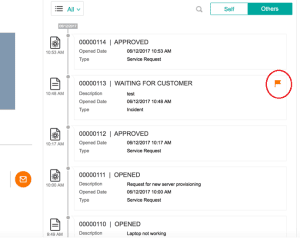 2) Improvements to Activity Feed
Summer 17 offers a new ability to add attachments with a single click.
Additionally, there is new email functionality on Activity Feed:
Support From and Bcc fields
Use of email templates
Ability to display attachments connected with incoming or outgoing email
Support for Contacts in type ahead for To, Cc, and Bcc fields (if configured)
Ability to add attachments when sending emails
Support for RTF formatting in emails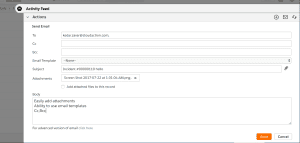 3) Email Conversation
With Summer 17, you have the ability to limit the templates shown in email conversation template window.
Another nice feature is support for email conversation folders to isolate email templates used only for email conversation.
4) Highlighted Records in the Console
Summer 17 offers two options for records:
New Record – Highlights new records to all queue members.
Update Record – When a user other than the owner of the record performs an action on the record.
For example, when the client updates the description of the record, sends an email message, or adds a note to the record, the record is updated or shown highlighted when another user performs the following actions.
Change owner (record is shown highlighted to the selected user)
Close or quick close a record
Link a record to a broadcast
Reopen a record
Mark the record as responded
Add a new action, send an email message, or add a note from the Actions menu
In the Incident Matching window, link another record as parent of the current record
Lock a record
Perform Activity from Feed or SmartView like adding notes, sending emails
If the owner of the record performs these actions, highlighting is removed.

5) "Time to Close Business Days" Field
There is option to calculate time to close on Incidents/Service Request based on business hours defined by admin. This will help in reporting on actual time spent to close ticket based on business hours

6)Configuration Items and Asset Details in Remedyforce Console
Summer 17 gives you the ability to view configuration items and asset details in the Remedyforce Console.

7) Staff Information in Action History
The Action history includes staff information from the parent record out-of-the-box, making it very simple to write any alerts on actions like email received, email sent, client note, etc.
8) Reconciliation in CMDB
You can enable reconciliation to avoid adding duplicate configuration items (CIs) and assets to your Remedyforce CMDB.
9) Preview Options on Service Request in Self Service 3.0
With summer 17, when a client browses through the service catalog, or when they view search results, a rich-text description on the service request definition is displayed. If there is no RTF description, the non-RTF description is displayed. This enables the client to view the complete description on the service request. Clicking anywhere on the description launches the service request form.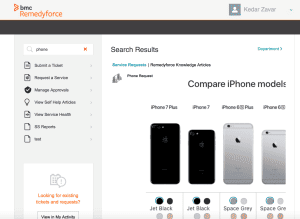 Your Vote Counts
One of the cool things BMC does is to encourage feedback from the Remedyforce community for ideas to improve the solution on every release. As proof that Remedyforce product managers take our feedback seriously, here a list of recent "ideas delivered."
I encourage everyone to take an opportunity to vote on new ideas at the Remedyforce community site within BMC Communities.