Remedyforce Integration: Chatter 101 for Remedyforce Help Desk
By Kedar Zavar, Senior Consultant, Cloudaction
---
Chatter is a Salesforce "enterprise social" tool that brings the power of social networking to the business world. The idea is simple: Harness the power of Facebook- and Twitter-like communications – for sharing information and communicating – then turn it loose within the organization to empower employees, enable teams to collaborate across locations and time zones, and unleash innovation and productivity in new ways. And that includes integrating Chatter with Remedyforce Service Desk.
For Remedyforce administrators, Chatter offers your Help Desk staff replacement of long, cumbersome email threads with a private Chatter group where they can get updates, share lessons learned, and keep track of specific records.
Going social with Chatter can be a game changer for your Remedyforce Help Desk. So, let's get started with a quick "Chatter 101" primer of things you need to know about a Remedyforce-Chatter integration.
Enabling Chatter
To enable Chatter:
In Salesforce: Setup > Customize > Chatter > Manage Your Chatter Settings
In Remedyforce: Remedyforce Administration > Application Settings > Chatter
If you're not planning a rollout for end users just yet, you can hide the Chatter tile on the Self-Service Portal by going to the tile visibility settings under Remedyforce administration.
On the Remedyforce console form, Chatter is shown if you click on record details at the top. You can also expose just the Chatter tab on profiles if needed, or Chatter can be available on the Home tab.
You have the option either to enable Chatter for all users in your organization at the same time or to do a profile-based rollout to select parts of your organization. I recommend enabling Chatter for all users unless there is some pressing constraint for not doing so.
Global search and feed search are automatically enabled. Note: Enabling Chatter disables sidebar search and advanced search.
Chatter Groups
With Chatter, you have the option of setting up public or private groups.
Public group – Anyone can join and everyone can see and add posts, comments, and files.
Private group – Only designated group members can see and add posts, comments, and files. With a private group, individuals must ask the group's owner to join. One recommended use of private groups with Remedyforce Help Desk is to establish a group for IT support that allows support analysts to collaborate privately on various topics.
Chatter Feed Tracking
An important aspect of a Remedyforce-Chatter configuration is selecting the fields on which you would like to see activity when updates are completed within a record. You can enable Chatter feed tracking for Remedyforce custom objects such as Incident, Change Request, Configuration Items, Broadcast and such. The limit is 20 fields per object and it will allow updates of the enabled fields to appear in the Chatter feeds.

Updates appear in the following format:

<Object Name> <Record Number> <User Name> <Action performed on the record>

Chatter Listeners
Remedyforce increases Chatter usability by giving you the ability to create incidents from Chatter using hashtags. For example, a user in a private IT Support group or "IT Support" might post #printer replace toner at location to create an incident. The configuration can be achieved from Remedyforce Administration > Application Settings > Chatter Listeners.


Priority Issues and Chatter
With Chatter, you can create an automated post to a group when an incident within a specific category is logged. The settings are available under Remedyforce Administration > Enable Incident Chatter Posts. This feature can be very useful for major incidents or P1 issues, and Chatter supports P1 to P5 values.

Chatter Email Settings
Users can control email settings by going to Setup > Personal Setup >My Chatter Settings. There are two options available in settings:
Feeds – Automatically follow records that I create
Approvals – Receive approval requests as posts

Remedyforce admins can configure primary settings by going to App Setup > Customize > Chatter > Email Settings. You also can apply custom branding.


Chatter Approvals
You also have the option of approving or rejecting records. Enable Chatter approvals by going to Setup > App Setup > Chatter > Settings > Allow Users to Receive Approval Requests as Posts.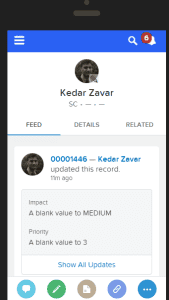 Salesforce1 Chatter
Chatter is available on the Salesforce1 app and is ready to use with minimum configuration.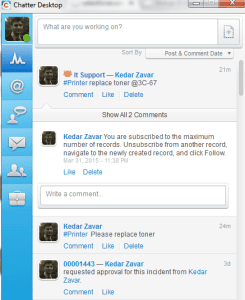 Chatter Desktop
Users can post updates, share files, and send private messages by simply dragging and dropping files from their desktop right into Chatter. Use the @name social convention in Chatter to send alerts to a specific user when feeds are updated.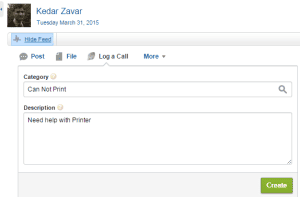 Global Actions
Chatter supports global actions so you can create records from Chatter.

Chatter Licenses
Chatter is available in Remedyforce for staff and clients based on configuration. Other available licenses include:
Chatter External – Allows use of Chatter groups
Chatter Free – Provides access to Chatter
Chatter Only (Chatter Plus) – Partial access to salesforce objects and Chatter data
NOTE: Please see Salesforce licensing for more details.
Best Practices
In closing, keep the following best practices in mind when considering a Remedyforce-Chatter integration:
Identify pilot users for rollout.
Train staff members on Chatter usage and build awareness.
Encourage Chatter user adoption via reward-based systems.
Test on sandbox to mitigate risk and avoid unpleasant surprises.
Set up email alerts based on need in order to avoid inbox clutter and reduce "noise."
Validate what you are posting and where you are posting before you share on Chatter. Like all social media tools, Chatter can be misused. Always use maximum consideration of others.
Use Chatter apps from AppExchange when your organization's Chatter usage has matured.
Follow Chatter feeds that are relevant to your function. That way, you can stay focused on the specific topics that matter and avoid unnecessary "noise."
Monitor Chatter usage via reports, etc.
At Cloudaction, our goal is to help you get maximum value from your Remedyforce experience. We welcome your comments and suggestions. Please don't hesitate to contact us at 1-844-2CLOUDA (1-844-225-6832) or via Ask Us NOW!, a complimentary service from Cloudaction to provide expert answers to your product capability, functionality, and implementation questions. We promise to respond to your inquiry or question within 24 hours.