Cloudaction Launches actionHub™ Integration Accelerator for Remedyforce
TULSA, Okla., and PUNE, India, June 9, 2015 – Cloudaction, the leading BMC Remedyforce ITSM consulting and implementation firm in North America, today launched actionHub™, the world's first integration accelerator designed exclusively for Remedyforce to enable seamless integration for cloud and hybrid enterprise application environments.
Built entirely on the Salesforce1 platform, actionHub extends Remedyforce's native functionality by synchronizing data movement and orchestrating business rules with enterprise applications. Pre-built connectors enable faster integrations with leading cloud and on-premise enterprise applications such as Service Cloud, JIRA, Microsoft SCOM and many more.
Cloudaction President Samir Kumar said, "actionHub is an innovation that grew organically from listening to our Remedyforce customers talk about what they need to make their organizations more agile, more responsive, more integrated at the enterprise level. With actionHub, they can now enhance Remedyforce's native functionality via integration with both cloud-based and traditional on-premise applications by taking advantage of Salesforce1, which is the world's leading cloud development platform."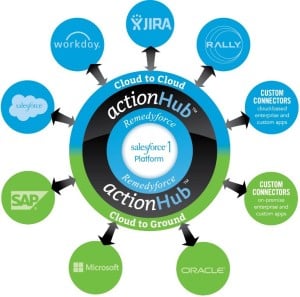 actionHub enables Remedyforce users to deliver tangible value to the business via:
Faster Application Deployments and Smoother Integrations – actionHub includes pre-built connectors to enterprise-class applications such as Service Cloud, Sales Cloud, Microsoft SCOM, Workday, Rally, JIRA, BMC Atrium Orchestrator and monitoring tools such as HP OpenView and SolarWinds.
Full Compliance with the Salesforce1 Platform – Because it is built entirely on the Salesforce1 platform, actionHub is fully compatible with REST-based web-enables architectures, SOAP-based web service for real-time data exchange, and Force.com managed packages.
More Predictable Integrations – actionHub scales on demand; extends data execution control to Apex classes for rapid integration extension to unique sources; and features reusable components via object libraries.
Standardized Data Synchronization and Business Rules for Cloud-based and Hybrid Environments – actionHub's pre-built adaptors connect Remedyforce with on-premise systems such as SAP and Oracle using RemoteAPI behind the firewall, with single or multiple data-driven actions triggered by defined business use case.
"With actionHub, seeing is believing," Kumar said. "So, we have created a series of actionHub videos that provide a quick overview of actionHub and specific uses cases that demonstrate its business value."
The actionHub videos are available at www.cloudaction.com/actionTV. To view the actionHub overview video, click here.
About Cloudaction
Cloudaction is a cloud solutions firm focused on strategic consulting, implementation, integration, and innovation on and around the Salesforce1 (Force.com) platform. Our pure-play focus on the Salesforce1 platform spans Sales Cloud (CRM), Service Cloud (Customer Service), Remedyforce (IT Service Management), Cloud Coach (Project Management), OneLogin (Identity Management) and custom Salesforce1 solutions. Based in Tulsa, Oklahoma U.S.A., we are a global company serving the Americas, Europe, South Asia, and Australia. With satellite offices across the U.S. and a Center of Excellence for Salesforce1 development in Pune, India, Cloudaction delivers exceptional results, on time and on budget. Visit us on the web at www.cloudaction.com.