Remedyforce Implementation: Tips for using Remedyforce sandbox
By Kedar Zevar, Senior Consultant, Cloudaction
---
An important aspect of Remedyforce administration is making sure that system changes are validated and tested prior to moving them to the production environment. While some may argue that you don't need to test before implementing routine changes, making any change directly in production can be dangerous, especially in complex live environments.
So how can Remedyforce administrators reduce the risk and certify that changes are valid before moving to production? The answer: by setting up a sandbox and using it correctly. Sandboxes are isolated from your production, which enables administrators to follow a safer migration path. Additionally, sandboxes can be used for other important Remedyforce administration activities, such as training, pilot rollouts, user acceptance testing, and quality assurance testing.
For those who are not as familiar with Remedyforce sandboxes as you'd like to be, let's take a minute to get you up to speed with some sandbox tips for Remedyforce implementations.
How do I access sandbox?
Login url: http://test.salesforce.com
User name: abc.xyz@companyname.com.sandboxname In other words, if your production ID is abc.xyz@companyname.com, then you'd use your production id appended by the sandbox name "rftest". Then your sandbox credentials would be abc.xyz@companyname.com.rftest and your password would be the same as production.
Where do I find sandbox?
Log in as Administrator >Administration Setup> Data Management > Sandbox
How can I log in as a user?
Administrators can click "Login" to log in to a sandbox as a user. You will find the login hyperlink next to existing users.
How do I use sandbox templates?
Sandbox templates are very helpful to administrators because they allow you to pick specific objects and data to copy to your Full or Partial Copy sandbox, which allows you to control the size and content of each sandbox. Note that sandbox templates are only available for use with Full or Partial Copy sandboxes.
What permissions are needed for the sandbox?
To view a sandbox: "View Setup and Configuration"
To create, refresh, activate, and delete sandbox: "Modify All Data"
How to move data to and from sandbox environments
Select "Create a new sandbox" or "Refresh and activate sandbox": This will copy current production data depending on type of sandbox.
You can use a Pentaho package to move Remedyforce metadata (e.g., SLA, templates, category, service request definitions, status, impact, urgency, priority, QuickViews) from one org to another.
Salesforce change sets can be used to move custom fields, workflows, email templates, approval processes, reports, dashboards, field sets, validations rules, sharing rules, custom triggers, and report types — to name few important customizations from Remedyforce perspective.
Data loader: This method would be for loading data from flat files. Other tools like Force.com IDE and dataloader.IO could be used as well.
How to refresh the sandbox
On production org go to: Set up > Data management > Sandboxes > List of sandboxes, chose the refresh link.
IMPORTANT: Be careful before you refresh. A refresh deletes and recreates the sandbox as a new copy of the production organization, so plan your refresh wisely and document it. Example: What has to be done after refresh? Do you need to enable users? Do you fix email IDs? You will get an email alerts once the refresh is completed.
Emails in sandbox
Newly created sandboxes have the default email deliverability setting of system email only. Remember to make sure if you are testing workflow emails that you will need to change email settings from Setup > Deliverability to all emails. Also, you will have to change each user's email to a valid email address if they want to be part of testing or you want them to be notified. Once the sandbox is refreshed, these emails become invalid.
Other important sandbox points to remember for Remedyforce admins
Name your sandbox to distinguish it from others and include descriptions. You org may end up having multiple sandboxes.
For Full sandbox, plan your refresh carefully as it can be done only after 29 days.
Disable emails if needed during testing from deliverability to avoid notifying real users.
Correct email addresses as they are not valid after refresh.
Remember that Salesforce automatically changes sandbox usernames, but not passwords.
Make sure you follow the same naming model when you add users manually on sandbox.
Make sure that all Salesforce usernames are unique and reference a single organization.
Define your templates correctly to pick and choose correct data if you have particle sandbox.
Involve all administrators in discussions if you plan to refresh any sandboxes within your org as a sandbox may be shared across teams.
Remember that Remedyforce has three major releases, so take an opportunity to test upcoming releases and provide user training in advance. You can upgrade sandboxes with RemedyForce major releases.
You might also consider syncing your upgrades based on this release schedule.
New sandboxes that aren't activated within 30 days will be automatically deleted.
It's important to know that sandboxes become locked when all the licenses for that type of sandbox expire. Sandboxes locked for 60 days are automatically deleted.
Data storage for sandbox can be tracked via Setup > Data management > Data storage > Usage
You can reduce admin work by taking the "right" approach. Example: If you are planning to set up a full sandbox, install Remedyforce on production first and then create full sandbox so that you do not have to reinstall this on sandbox.
Remember that users added in a production organization instance after creating or refreshing a sandbox don't have access to the production organization instance's related sandboxes. You will have to add them.
Sandbox and production organizations always have unique organization IDs.
Full sandbox does not copy Chatter data by default; you need to check the box for this.
If you don't see a sandbox option or need licenses for more sandboxes, you can contact Salesforce to order sandboxes for your organization.
You can configure single sign on (SSO) sandbox for testing etc.
The sandbox URL will show "cs" as part of instance names. Example : cs8
Sandbox types and specs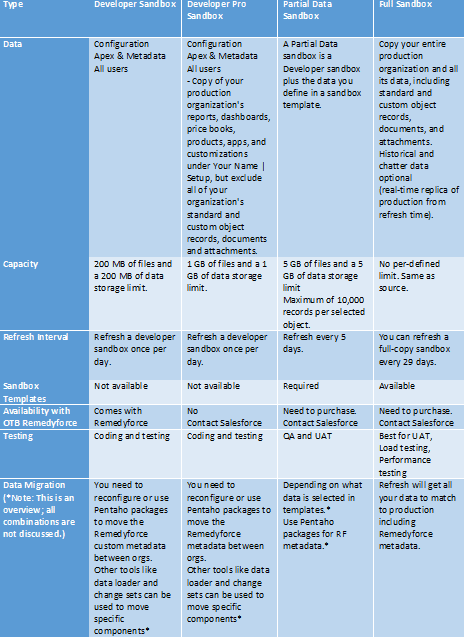 Availability based on Salesforce edition

At Cloudaction, our goal is to help you get maximum value from Remedyforce. We welcome your comments and suggestions. Please reach out to our team via Ask Us NOW!, a complimentary service from Cloudaction to provide answers to your product capability, functionality, and implementation questions. We promise to respond to your inquiry or question within 24 hours.