Remedyforce Consulting: What's So Cool About Remedyforce Winter 17? Plenty!
By Kedar Zavar, Senior Architect, Cloudaction
---
As a member of the BMC Early Access Program, I am always excited when it's time for a new Remedyforce release. I get to take a pre-release deep dive into the new Remedyforce features and capabilities that will provide measurable benefits to my customers, and which in turn will provide business value to their customers. And I must admit Remedyforce Winter 17—which is generally available today—in many substantive ways exceeds my expectations.
With Winter 17, the overarching focus is on user experience, with lots of great GUI changes and sleek new features to make UX better, more intuitive, and more importantly FASTER for Remedyforce users. And when I say FASTER, I mean the Salesforce Lightning Experience.
The Lightning Experience brings to the Remedyforce Console a consumer-like experience that is modern and intelligent, and available to Remedyforce users across any device, desktop, tablet and mobile. Relevant information is surfaced for each screen, streamlining processes and making workflows more intuitive.
Speaking of Lightning speed, let's get to what's great about Winter 17!
1. Updated interface
Winter 17 offers a modern, reimagined user interface. It's more intuitive than ever. This is a huge step forward in terms of UX.

2. Ability to customize columns on Console
In the past, staff could not customize columns, which presented a challenge. With Winter 17 you can customize columns on Console view.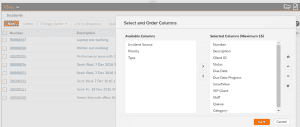 3, "Assign to me" option
Staff has had to pick "Him" or "Her" in staff lookup to assign record to themselves. Now you can do this, and select multiple records, at the click of the "Assign to me" button, either from Record or from Console.


4. New records highlighted in Console
In the past identifying a new record was not easy. With Winter 17, new records are highlighted, similar to the way a new email is highlighted in Outlook. Further, a record is not displayed as new if staff:
Performs an Action from the Actions menu.
Updates the Responded Date field.
Changes the status of the record of the record.
Note: Any changes in the ownership of an incident will not affect the New Incident flag.

5. New look for Console forms
The look and feel of the Console forms has changed.
Key changes:
"Assign to me" button (as mentioned earlier)
Client full name instead of user name
Activity Feed
One-click access to record details
Super-easy ability to add notes and email
Ability to edit records
SmartView option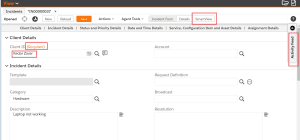 6. SmartView embedded on forms
This feature makes it super easy for staff to see and edit records, which reduces number of clicks and increases staff productivity. Key functionality:
Easily access all related records, tasks, change requests, configuration items, notes, and attachments in one view
Quickly edit records
Ability to send emails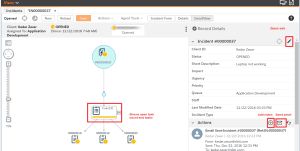 7. Activity Feed
The new Activity Feed empowers you to:
Easily send emails
Read notes
Add or read attachments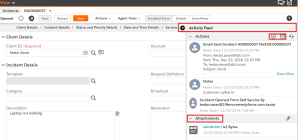 8. Knowledge articles
This existing feature gets a new look and feel, with the ability to embed videos from sites such as YouTube or Vimeo.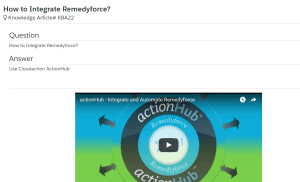 9. Self-service 3.0
With Winter 17, Self-service Beta becomes generally available, with a new sleek design and support for almost all features.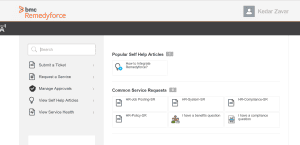 10. SmartSync – BETA enhancements
SmartSync – BETA enables you to import data and configuration settings from the production org to the sandbox org. With Winter 17 templates and request definitions are added to the settings
11. Remedyforce Discovery enhancements
This feature gives you the ability to reset passwords or change passwords on the Discovery server. Additionally, the Discovery Audit Log Object provides access to the Discovery audit logs.
12. Reconciliation of CMDB records – BETA
This feature enables you to merge different information about the same CI or asset in one record, improving the data quality of the CMDB while reducing the risk of duplicate records.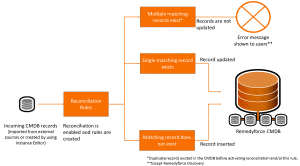 Image Source: Remedyforce Documentation
Click here to register for a Remedyforce demo and get an overview of Remedyforce's functionality and a look at the cool enhancements in Winter 17.
At Cloudaction, our goal is to help you get maximum value from your Remedyforce experience. We welcome your comments and suggestions. Please don't hesitate to contact us at 1-844-2CLOUDA (1-844-225-6832) or via Ask Us NOW!, a complimentary service from Cloudaction to provide expert answers to your product capability, functionality, and implementation questions. We promise to respond to your inquiry or question within 24 hours.