Enhancing Salesforce with Intelligent Automation from Automation Anywhere
Salesforce is the de facto leader in customer relationship management (CRM). Salesforce gives your team all the tools they need to keep your rev-gen and customer service engines revving at maximum horsepower.
Salesforce solutions enable complete transparency into task ownership, accountability, and progress in real time—from top-of-the-funnel lead gen (Marketing Cloud for awareness building, prospect engagement, proactive communication, and lead scoring) to sales management (Sales Cloud for lead and opportunity management, sales reports, dashboards, and forecasting) to customer service (Service Cloud for routing inquiries, triggering actions, and tracking interactions and remediation) to secure social platforms (Experience Cloud for connecting customers, partners, and employees with each other).
Use Case: Extending Salesforce with Automation Anywhere

With Cloudaction as your digital workforce partner, you can augment and extend your Salesforce environment with intelligence automation from Automation Anywhere. Cloudaction is a Salesforce Certified Partner with tons of project experience across multiple industries.
We can help you leverage Automation Anywhere's innovative Automation 360 platform to map, develop, and deploy AI/RPA technology within your Salesforce environment to increase productivity and save money by:
Automating any business process
Reducing operational snafus
Eliminating human error and exceptions
Ensuring compliance and governance
Enhancing customer experience
Saving your employees' valuable time to focus on critical tasks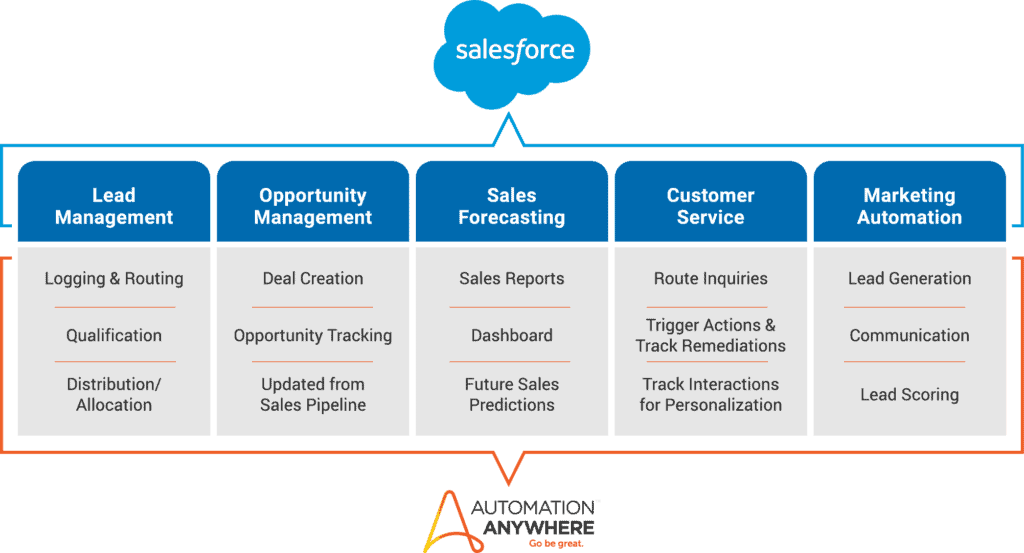 "Automating these tasks and processes will significantly reduce the team workload and ensure opportunities and cases are handled in a timely and efficient manner, which leads to overall improved productivity and a greater return on your Salesforce investment."

Samir Kumar, President and Cofounder, Cloudaction
Cloudaction Digital Workforce Services
Cloudaction's Digital Workforce Services help you understand the value of intelligence automation, document and expand current processes; develop business-specific use cases; and implement a tailored AI/RPA solution for your company.
Contact us today to start a conversation.