Enriching the ServiceNow ITSM Experience for Employees and IT with RPA
At midsize-to-large organizations around the world, more IT departments rely on ServiceNow to support their IT service management than any other ITSM platform. ServiceNow's native functionality provides a level of process automation to handle many of the critical ITSM functions.
Augmenting ServiceNow with a robotic process automation (RPA) platform, however, can significantly enhance ServiceNow's out-of-the-box functionality by bringing intelligent automation to both IT and non-IT lines of business.
Routine ITSM processes vary in terms of frequency (daily, monthly, as needed) as well as corporate compliance/risk management sensitivity. Common examples include:
Help desk ticketing
Password management and resets
Application service-level monitoring
Employee onboarding/offboarding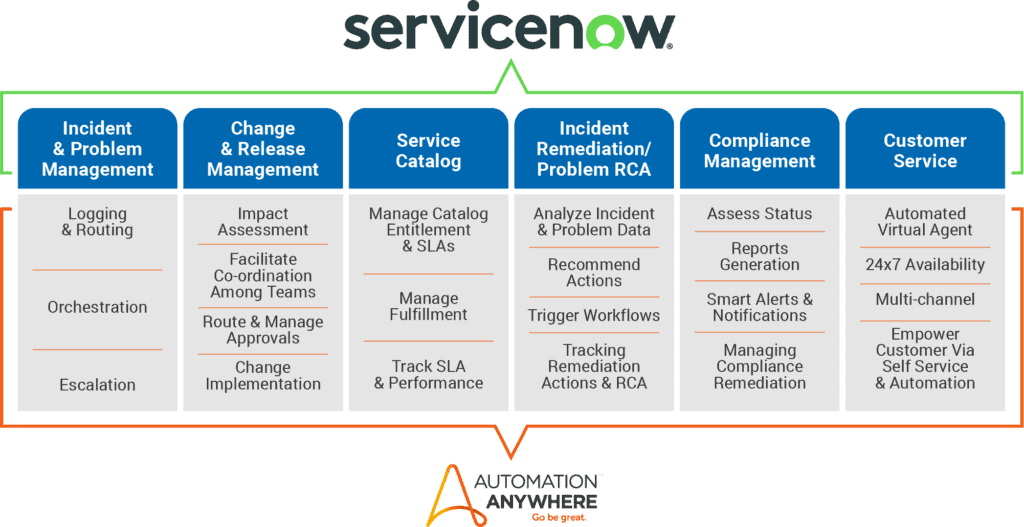 Use Case: Employee Onboarding with RPA from Automation Anywhere
Employee onboarding/offboarding is a great example of a routine ITSM task with risk management overtones. Onboarding is labor-intensive, from spreadsheet data entry of key employee attributes to creating user accounts in Active Directory and assigning user access to specific systems, etc. Bottom line, it consumes large amounts of IT time and resources.
With RPA from Automation Anywhere, you can fully automate the onboarding process in ServiceNow. Automation Anywhere's intelligent automation platform can:
Extract spreadsheet data for each employee
Communicate directly with Active Directory and Exchange Server
Create new user accounts and mailboxes
What's more, the same intelligent automation can be applied to other routine ITSM tasks and processes, regardless of frequency and compliance sensitivities.
Cloudaction Digital Workforce Services
RPA solutions enable you to expand and accelerate your business processes. Cloudaction's Digital Workforce Services help you understand the value of intelligence automation, document and expand current processes; develop business-specific use cases; and implement a tailored AI/RPA bot solution for your company.
Contact us today to start a conversation.